Darkness falls across the land
The midnight hour is close at hand
Creatures crawl in search of blood
To terrorize y'all's neighborhood
And whomsoever shall be found
Without the soul for getting down
Must stand and face the hounds of hell
And rot inside a corpse's shell…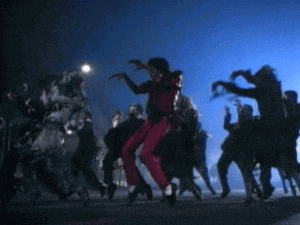 I have always had strong affinity with Samhain (or Halloween to the less creepy folk!) I tend to believe that our bloodline of women have historical links to witchcraft or at the least paganism. It has always fascinated me and I was encouraged to explore a spiritual path from an young age.
Queue the angsty, teenage years when I would cast spells to bring love, wealth and happiness. I had odds and sods to use alongside simple incantations such as feathers, herbs and different coloured candles for various spell types. Really it was a belief system that allowed me to navigate the challenges of growing up because a lot of the "lifestyle" was about being close to nature (which has proven health benefits), positive mental attitude & recognising the value of people and life. Wicca was very positive and taught me a lot about myself.
Should Bea show an interest in this way of life I would certainly not discourage her. It is not dark and destructive. It is in fact a force of positive energy much like other derivatives of self improvement (eg: yoga, meditation) as it is a focus for change and allows you to affirm your positive presence in the world. Ask the Universe and you shall receive!
So there's a random nugget about my past interests. And in the present I still carry the benefits of what I learned. This Halloween I will be my regular Witchy self and watching Practical Magic with my mini witch #MidnightMargaritas anyone?!  I feel so happy to have grown up in a time that made witchcraft feel appealing and acceptable. I was part of the Sabrina The Teenage Witch generation. (It gives me a warm feeling inside when I just think about it!)
Another of my all time favourite Witch-centric movies is Hocus Pocus. It has certainly aged! It exudes 90s charm/cringe (you decide which side of a very blurred line it traverses!) in my humble opinion I have nothing but love for it! I can't help but to join Bette Middler in song in the "I'll Put A Spell On You" scene.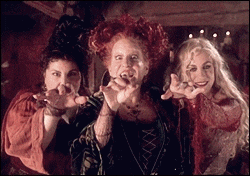 It is no secret that Bea and I are massive fans of a bow or two… so we were thrilled to be gifted October's Subscription Box from Louise of the Bumblebee Collection; aptly named "Hocus Pocus". The name itself evoked a warm glow in my very soul. I couldn't wait to unwrap the five very different but equally beautiful bows. They looked both beautiful as a group and individually.
Each bow exceeds the quality I expected, having scrolled through a beautiful Instagram feed. The photography I have captured, I do not feel shows the bows in their full glory when you see them in person; in particularly the shine of the glitter bow and how the ombré fades seamlessly. They are very striking and I loved the attention to detail and that each bow relates to a specific dimension of Halloween.
The names of the bows are as follows:
Ghouls Ombré Ribbon Bow, Wizards Tulle Bow in navy, Witches Magic Glitter Bow, Glow in the Dark Ghost Bow and Black Magic Painted Bow- #SpookTacular!
The colour scheme of the bows very much lends itself to the aesthetic of Halloween. The designs are both very overtly related to the holiday (such as the charming glow in the dark ghostie that lit itself in a phosphorescent glow much like a splodge of ectoplasm!) and bows that are more wearable all year round (Glitter is for every season!!!)
The headbands are very soft and I have found that after a long period of time have not left as obvious marks on Bea's head as other bows. She has found them most comfortable to wear and they are easy to slip on with no fuss.
What I particularly appreciate is the sizing of the larger bows (Ghouls Ombré & Wizards Tulle.) I would describe these two as "oversized" bows. They occupy the largest top section of Bea's head and are very prominent. They could also be refered to as head pieces
Personally I would then size the Witches Magic Glitter Bow as medium and the Ghost and Black Magic bows are more petite.
The materials used are of utmost quality and every effort has been employed by Louise to ensure that the comfort aspect has really been exceeded. For example glitter can be uncomfortable but the bow has been fashioned to limit the glitter rubbing the baby/child's head directly because there is sufficient padded material on the underside of the bow.
I couldn't decide which bow was my favourite as each can be paired with all sorts of ensembles. I would say they are more than an "accessory". Whilst Bea's hair is growing back in I would say that to me personally, dressing her head is just as important as the rest of her body so it is important to me that the headbows are both unique and functional/comfortable. I must admit I "awww'ed" out loud as the tulle bow and "ooooh'ed" at the glitter bow as it's colour changed in different lights.
I couldn't help but to join in the Halloween Fun and dressed Bea for a suitably themed shoot; showcasing the glow in the dark ghost and black magic bow. I haven't seen a ghost design like this before so it was pleasant to own an eccentric and one of a kind piece. The black magic bow was more classic but there's a reason why bows like this are made: they look good! All bows are handmade with love and the value is incredible in my humble opinion. The subscription boxes are only £12.50 and they feature designs that are unique to the sets that Louise creates for her themes to showcase fabrics and designs that her customers may never have purchased previously.
The boxes ship on the 1st of each month. I will certainly be placing my order for the next available box as October and November sold out so speedily.
Blink an eye and they have gone! I feel so privileged to have gotten my (monster) claws on these gorgeous bows. I have enjoyed matching outfits to the bows (This Momma loves
a challenge!) These bows are not just for "dress up"; though I have loved incorporating them into my Halloween Photography. They are so wearable and the bows form a Go-To capsule of headpieces that I know look good, but also feel comfortable for Bea.
Bea will certainly be wearing her black magic bow with her witch costume this year (as pictured). The bows have cast a spell on us and are a "treat" this Halloween. I feel this outfit will honour our ancestry whilst Bea looks adorable (#TooCuteToCreep!)
Have a wonderful Halloween all and remember to observe safety as well as fun with your Little Monsters.
– Bea's Mummy/Momma Witch.
This slideshow requires JavaScript.
I was gifted this set of bows by Louise of Bumblebee Collection but all opinions are my own.